Stolen Life (Consent Not to Be a Single Being) (Paperback)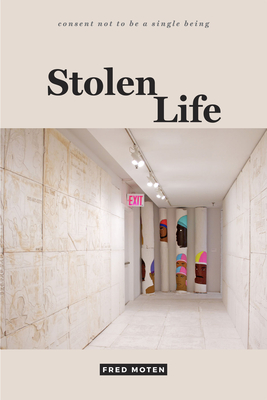 Staff Reviews
---
Stolen Life, the second volume in Fred Moten's momentous consent not to be a single being trilogy, is an entire universe unto itself. Moten, the eminent scholar, poet, and philosopher of black studies and performance studies, is perhaps our greatest living critical theorist. The essays collected here are an attempt to think rigorously (which is to say, in Moten's universe, lovingly) toward an understanding of the aesthetics of fugitivity, through and with an ensemble of performers, musicians, writers, and thinkers who refuse the social death that constitutes Western modernity. The language, the form, the ideas are all difficult, but well worth the struggle.
— From
Sam W
Description
---
"Taken as a trilogy, consent not to be a single being is a monumental accomplishment: a brilliant theoretical intervention that might be best described as a powerful case for blackness as a category of analysis."--Brent Hayes Edwards, author of Epistrophies: Jazz and the Literary Imagination In Stolen Life--the second volume in his landmark trilogy consent not to be a single being--Fred Moten undertakes an expansive exploration of blackness as it relates to black life and the collective refusal of social death. The essays resist categorization, moving from Moten's opening meditation on Kant, Olaudah Equiano, and the conditions of black thought through discussions of academic freedom, writing and pedagogy, non-neurotypicality, and uncritical notions of freedom. Moten also models black study as a form of social life through an engagement with Fanon, Hartman, and Spillers and plumbs the distinction between blackness and black people in readings of Du Bois and Nahum Chandler. The force and creativity of Moten's criticism resonate throughout, reminding us not only of his importance as a thinker, but of the continued necessity of interrogating blackness as a form of sociality.
About the Author
---
Fred Moten is Professor of Performance Studies at New York University and the author of Black and Blur and The Universal Machine, both also published by Duke University Press, and In the Break: The Aesthetics of the Black Radical Tradition.