At the Strangers' Gate: Arrivals in New York (Paperback)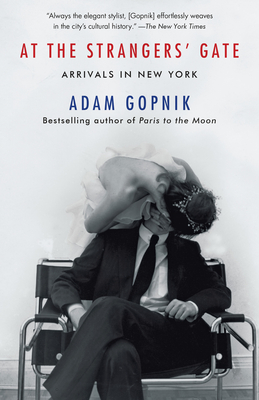 Description
---
From The New York Times best-selling author of Paris to the Moon and beloved New Yorker writer, a memoir that captures the romance of New York City in the 1980s.

When Adam Gopnik and his soon-to-be-wife, Martha, first arrived in 1980, New York City was a pilgrimage site for the young, the arty, and the ambitious. But it was also becoming a place where both life's consolations and its necessities were increasingly going to the highest bidder. At the Strangers' Gate is a vivid portrait of this time, told through the story of one couple's journey—from their excited arrival as aspiring artists to their eventual growth into a New York family. Through a series of comic mini-anthropologies that capture the fashion, publishing, and art worlds of the era, Adam Gopnik transports us from his tiny basement room on the Upper East Side to a SoHo loft, from his time as a graduate student-cum-library-clerk to the galleries of MoMA. Filled with tender and humorous reminiscences—including affectionate reflections on Richard Avedon, Robert Hughes, and Jeff Koons, among many others—At the Strangers' Gate is an ode to New York striving.
About the Author
---
Adam Gopnik has been writing for The New Yorker since 1986. He is a three-time winner of the National Magazine Award for Essays and for Criticism and of the George Polk Award for Magazine Reporting. In March 2013, Gopnik was awarded the medal of Chevalier de l'Ordre des Arts et des Lettres by the French Republic. He lives in New York City with his wife and their two children.
Praise For…
---
"Always the elegant stylist, [Gopnik] effortlessly weaves in the city's cultural history." —The New York Times

"Gopnik can write a beautiful sentence about pretty much anything. . . . [At the Strangers' Gate] provoked the same reaction in me as all of Gopnik's work: I am awed by and envious of his craft and simply baffled by the span of his knowledge." —Duff McDonald, The Wall Street Journal

"A real treat." —The Times Literary Supplement
 
"The finest book of the New Yorker writer's distinguished career." —Maclean's
 
"Superb." —San Francisco Chronicle

"[Gopnik's] loving description of SoHo's cast-iron buildings, studded with specific detail, brings the neighborhood into sharp visual focus. . . . Character sketches of Avedon and Hughes are equally shrewd." —The Boston Globe
 
"At the Strangers' Gate brings a whole decade vividly back to life. . . . A well-oiled and smoothly captivating performance from start to finish, sure to be as beloved as Paris to the Moon but feeling even more personal and involving." —The Christian Science Monitor
 
"[A] stylish memoir." —The Philadelphia Inquirer
 
"At once intellectual, casual, observant and thoughtful." —San Francisco Chronicle
 
"For more than 30 years . . . Gopnik has made the most of sentences and circumstances. With At the Strangers' Gate, he has done so again." —Tulsa World
 
"Charming. . . . Gopnik asks readers, as Patti Smith did in Just Kids, to accompany him to another decade. . . . [His] writing, at its best, maintains a dynamic tension between elegance and wisdom, between the true and the lovely. . . . [He is] a formidable stylist, in the tradition of E.B. White, James Thurber and Wolcott Gibbs." —Toronto Globe and Mail
 
 "A riveting and incandescent chronicle of personal evolution set within the ever-morphing, cocaine-stoked crucible of ferocious ambition that was 1980s Manhattan." —Booklist (starred review)
 
"Anyone who worries that artificial intelligence might some day outpace the faulty circuitry inside human heads should be cheered by the existence of Adam Gopnik. His brain has nothing to fear from electronic competition. . . . [He] is a sleek stylist, and a high-minded, big-hearted moralist into the bargain." —The Observer
 
"Gopnik has a way of making daily domestic life both fascinating and moving." —The New York Post
 
"With humor, affection, and the careful eye of a trained art historian, [Gopnik] offers an enjoyable and engaging story of New York." —Library Journal (starred review)