Boneshaker: A Novel of the Clockwork Century (CD-Audio)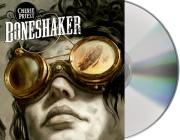 $66.99
Email or call for price.
Other Books in Series
This is book number 1 in the The Clockwork Century series.
Description
---
Cherie Priest's long-awaited steampunk debut, Boneshaker, opens in the early days of the Civil War when rumors of gold in the frozen Klondike brought hordes of newcomers to the Pacific Northwest. Anxious to compete, Russian prospectors commissioned inventor Leviticus Blue to create a great machine that could mine through Alaska's ice. Thus was Dr. Blue's Incredible Bone-Shaking Drill Engine born.
But on its first test run the Boneshaker went terribly awry, destroying several blocks of downtown Seattle and unearthing a subterranean vein of blight gas that turned anyone who breathed it into the living dead.
Now it is sixteen years later, and a wall has been built to enclose the devastated and toxic city. Just beyond it lives Blue's widow, Briar Wilkes. Life is hard with a ruined reputation and a teenaged boy to support, but she and Ezekiel are managing. Until Ezekiel undertakes a secret crusade to rewrite history.
His quest will take him under the wall and into a city teeming with ravenous undead, air pirates, criminal overlords, and heavily armed refugees. And only Briar can bring him out alive.
About the Author
---
Cherie Priest debuted to great acclaim with Four and Twenty Blackbirds, Wings to the Kingdom, and Not Flesh Nor Feathers, a trilogy of Southern Gothic ghost stories featuring heroine Eden Moore. She is also the author of Fathom, Dreadnought, and Boneshaker, which was nominated for a Nebula and Hugo Award and won the PNBA Award and the Locus Award for best science-fiction novel. She is an associate editor at Subterranean Press. Born in Tampa, Florida, Priest went to college at Southern Adventist University and earned her master's in rhetoric at the University of Tennessee. After spending most of her life in the southern United States, she recently moved to Seattle, Washington, with her husband, Aric, and a fat black cat named Spain.

Kate Reading is the recipient of multiple AudioFile Earphones Awards and has been named by AudioFile magazine as a "Voice of the Century," as well as the Best Voice in Science Fiction & Fantasy in 2008 and 2009 and Best Voice in Biography & Culture in 2010. She has narrated works by authors as Jane Austen, Robert Jordan, Edith Wharton, and Sophie Kinsella. Reading has performed at numerous theaters in Washington D.C. and received a Helen Hayes Award for her performance in Aunt Dan and Lemon. AudioFile Magainze reports that, "With subtle control of characters and sense of pacing, Kate's performances are a consistent pleasure.".
Praise For…
---
"Cherie Priest wove a story so convincing, so evocative, so terrifying that I read this book with the doors locked and a gun on my lap. Boneshaker is a steampunk menagerie of thrills and horror." —Mario Acevedo, bestselling author of Jailbait Zombie
"This exquisitely imaginative steampunk adventure is a joy to read! My favourite of Cherie's books." —Cassandra Clare, bestselling author of the Mortal Instruments trilogy
"Everything you'd want in such a volume and much more.... It's full of buckle and has swash to spare, and the characters are likable and the prose is fun. This is a hoot from start to finish, pure mad adventure." —Cory Doctorow, bestselling author of Little Brother
"Boneshaker is without a doubt Cherie Priest's breakthrough work: this hollering, stamping, crackling thing is the best fun you'll have with a book all year." —Warren Ellis, bestselling author of Crooked Little Vein
"A gorgeously grim world of deadly gasses, mysterious machines, zeppelin pirates, and a relentless plague of zombies. With Boneshaker, Priest is geared up to begin her reign as the Queen of Steampunk." —Mark Henry, Author of Road Trip of the Living Dead
"A rip-snorting adventure in the best tradition of a penny dreadful. Priest has crafted a novel of exquisite prose and thrilling twists, populated by folk heroes and dastardly villains, zombies and air pirates, incredible machines and a heroine who'll have you cheering. Boneshaker is the definitive steampunk story, absolutely unique and one hell of a fun read." —Caitlin Kittredge, author of the Nocturne City novels
"A marvelous book, crammed with readerly pleasures--zombies, pirates, cracking adventures, historical conceits and characters that make you wish you could linger inside it long after turning the final page. Cherie Priest is one of my favorite fantasists." —Kelly Link, acclaimed author of Magic for Beginners
"If Jules Verne and George Romero got together to rewrite American history it might go something like this. I loved it. I want more." —Mike Mignola, bestselling author of Hellboy
"If the Wild Wild West had been written by Mark Twain with the assistance of Jules Verne and Bram Stoker, it still couldn't be as fabulous and fantastical as Boneshaker. Cherie Priest has penned a rousing adventure tale that breathes a roaring soul and thundering heart into the glittering skin of Steampunk. Stylish, taut, and wonderful, it's a literary ride you must not miss!" —Kat Richardson, bestselling author of Greywalker
"A steampunk-zombie-airship adventure of rollicking pace and sweeping proportions, full of wonderfully gnarly details. This book is made of irresistible…. It totally pushed all my buttons." —Scott Westerfeld, bestselling author of Uglies and Peeps