What Patients Say, What Doctors Hear: What Doctors Say, What Patients Hear (MP3 CD)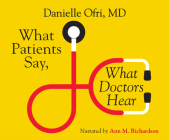 $24.99
Email or call for price.
Description
---
Despite modern medical advancements, such technologies are still secondary to medicine's most powerful diagnostic tool: a conversation. Accurate diagnosis and effective treatment still rely on a patient's ability to describe her symptoms, and a doctor's capacity to hear and correctly interpret them. It's not surprising then that this primary means of diagnosis can often go awry. The clash between a patient's storytelling and their doctor's search for a chief complaint can lead to frustration, a poor doctor-patient relationship, and potential medical errors. Though the gulf between what patients say and what doctors hear is often wide, Dr. Danielle Ofri proves that it doesn't have to be. She tells doctor-patient stories to identify barriers productive communication, reports the latest research studies, and interviews scholars, doctors and patients explore how better communication can lead to better health outcomes.