Life of the Party Placemats: More than 375 conversation starters to amaze, amuse, and entertain your dinner guests (Novelty book)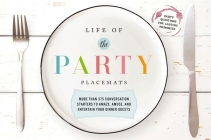 Description
---
Let's get this party started! Liven up any dinner party with this elegant conversation-starting addition to your table setting.

Life of the Party's beautifully illustrated placemats are designed with your dinner party in mind, with more than 375
questions at the ready from the start of cocktails and appetizers, through dinner and dessert. There's no shuffling or
rearranging required, just good food and good conversation! These pleasing placemats will brighten up any table, and
add an alluring touch of flair to your next social event. With 24 different placemats, you can entertain from just two
up to two dozen! Here are just a few of the questions you'll find:
*What would be the hardest skill for you to give up?
*If you were born 100 years ago, what do you think your occupation would be?
*What's the smallest amount of money that would make the biggest difference in your life?
*How would you explain different colors to a blind person?
*Have you ever lied to get out of a date?
It's creative! It's inventive! It's decorative! And most of all, it's FUN! It's The Life of the Party!
About the Author
---
Good ideas ripen with time. From seed to harvest, Cider Mill Press brings fine reading, information, and entertainment together between the covers of its creatively crafted books. Our Cider Mill bears fruit twice a year, publishing a new crop of titles each spring and fall. Cider Mill Press is an independent publisher of high-quality cookbooks, elegant wine and spirits projects, humorous parodies, classic children's books, and more. We're proud to publish many celebrated bestselling titles, including the #1 New York Times bestselling edition of The Night Before Christmas. Along with our children's imprint, Applesauce Press, we combine top-notch design, unique formats, and fresh content to create truly innovative gift books.