Salvaged: Leadership Lessons Pulled from the Junkyard (CD-Audio)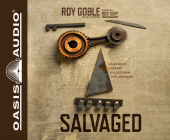 $21.99
Email or call for price.
Description
---
Successful Silicon Valley real estate developer and wealth creator Roy Goble shares the surprising lessons he learned as a boy working in his family junkyard. Skillfully uniting the teachings of Jesus with the sometimes messy realities of leading people and getting things done, Salvaged helps leaders at all levels discover powerful opportunities to follow Jesus in the real world―and in surprisingly simple ways.

Working in his dad's junkyard as a kid, Roy had no idea what his future held: an incredibly successful career in commercial real estate, as well as founding and leading multiple ministries, churches, and nonprofits across the globe. So when Roy talks about what it means to follow Jesus daily as a leader, people pay attention. Entrepreneurs, pastors, and managers who learn to lead from Roy won't parrot his jargon or practice his "system"―these men and women will simply know how to lead better.

After a no-nonsense and compelling introduction, Roy delivers 31 of his most surprising, memorable, and practical leadership lessons, many of which are culled from his junkyard days. Each focuses on a personal "junkyard" story, leadership lesson, and comparable Bible passage perfect for daily study. A growth and action section is included after each chapter that gets to the heart of the lesson through thought-provoking questions with action steps designed to be immediately put into practice.
About the Author
---
Roy Goble grew up working in his father's junkyard, where he learned to take apart absolutely anything and to evaluate everything for the value of its parts. After studying economics and business at Westmont College, and marrying his high school sweetheart, D'Aun, he joined his family's growing real estate business. 

As the business flourished, he experienced the complexity of creating wealth while following Jesus. He began to wrestle with what he knew about business and what Jesus was calling him to be and do, beginning a decades-long quest for a way to understand his place in God's kingdom and in a global society. 

Today he runs a real estate investment company based in Silicon Valley, leads the ministry PathLight International, and serves on multiple boards-while still finding time to visit and learn from friends and ministry partners around the world. 

Following Jesus as a wealth creator has turned out to be harder and better than he ever imagined, and sometimes he misses the simplicity of selling parts in the junkyard. After thirty-five years of marriage, however, D'Aun tells him he already owns too many old cars.

Roy regularly blogs on www.junkyardwisdom.com.