Turkey: The Insane and the Melancholy (Hardcover)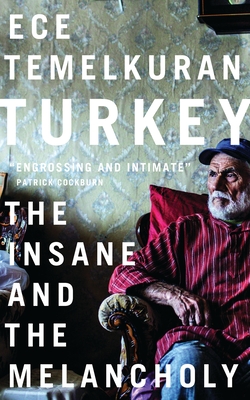 Email or call for price
Special Order: Not Currently Available
Description
---
Turkey is a nation of contradictions and contrasts. Though considered democratic, the Erdogan government has increasingly begun to resemble a dictatorship, jailing it opponents and violently suppressing dissent. And though Turkey is notionally secular, the Justice and Development Party's power has fed the creeping influence of religious conservatism, with figures in the party denouncing abortion rights and attempting to criminalize adultery. Having long occupied an uneasy middle ground between a secular West and Islamic East, Turkey has been drawn into the conflicts of its neighbors, including the Arab Spring, the Syrian civil war, and the rise of ISIS. In this fascinating portrait of a nation in turmoil, the renowned Turkish journalist and novelist Ece Temelkuran provides a vivid and deeply personal account of the crisis afflicting modern Turkey.
 
Temelkuran identifies a long-running culture of repression and authoritarianism that has plagued Turkey throughout its history, a culture she traces back to the fall of the Ottomans and the continued climate of denial around the Armenian genocide. But, she firmly believes there is still a strong voice of dissent in Turkey, and she argues that the Gezi Park protests of 2013 represented a glimmer of hope that has not yet been fully extinguished and may still grow to rejuvenate democracy in the country. Providing unique insight into Turkey's ongoing political turmoil, this is a timely look at a country that is caught at the center of many of the changes and much of the turmoil of the Middle East today.
 
About the Author
---
Ece Temelkuran is one of Turkey's best-known authors and political commentators. She was a columnist for Milliyet before her criticism of government repression led to her losing her job. Her previous books in English include Deep Mountain: Across the Turkish-Armenian Divide and Book of the Edge. Zeynep Beler currently lives and works in Istanbul.
 
Praise For…
---
"For readers with a particular interest in Turkish politics, or a more general curiosity about polarized democratic societies with authoritarian patriarchal rulers, I also recommend Turkey: The Insane and the Melancholy, a passionate nonfiction work by Ece Temelkuran, one of many Turkish journalists who have lost their jobs for criticizing the current government."
— Elif Batuman
"Temelkuran's book is as tumultuous and haunting as the news that emerges daily, relentlessly, from Turkey. . . . Temelkuran could not have predicted these events, but she has nonetheless written a primer for today's chaos, a masterclass in expecting the unexpected. . . . Turkey lays bare not only the recent years of Recep Tayyip Erdogan's rule but the very foundations of the republic itself, a painfully close examination of the political and cultural shifts of a profoundly damaged country just shy of its centenary. Its author—an award-winning journalist and novelist both celebrated and reviled by her fellow Turks—makes no attempt to conceal the emotion of someone writing in the eye of the storm. . . . This book is both an elegy and an exposé of Temelkuran's homeland."
— Financial Times
"Part memoir, part historical rumination, part jeremiad against the current government, Temelkuran's book is an attempt to come to grips with her 'troubled, ill-fated and perplexing country' and its 'great, long madness.' The portrait she paints is uncomplimentary but loving; its harshness is born of honest observation and heartfelt concern. Her anger is genuine, deep, and unsparing, but—not unlike the critique one might offer a wayward but still beloved spouse—its aim is to prompt reflection and improvement, not to wound or slander."
— Bookforum
"Temelkuran looks on in despair at the state of the country as everything she warned about comes to pass. . . . This new book gives a representative example of what an intelligent observer in Turkey thinks and feels about the past fifteen years."
— Times Literary Supplement
"As one of Turkey's leading journalists and activists, Temelkuran offers a vivid portrait of a nation in constant turmoil. . . . The Insane and the Melancholy will help you to understand Turkey better. Here is a book that should definitely be on the reading list of everyone who is sincerely interested in this troubled country and its beautiful, often confused, always lonely people."
— Spectator
"Temelkuran, a celebrated Turkish journalist who lost her job for criticizing the Erdog?an regime, profiles her tumultuous homeland, elucidating the distinct problems it faces as a nation straddling continents and struggling to understand, never mind resolve, its internal contradictions. . . . Through passionate and poetic prose, Temelkuran holds a mirror to Turkey and a people 'forced to live with such complicated psyches.'"
— Publishers Weekly
"The Insane and the Melancholy aims to explain Turkey's current political turmoil to a global audience, drawing on music, poetry, photographs, stories, history, the media, and everyday conversations."
— New Humanist
"Temelkuran addresses her own position as a former journalist who now pens fiction and poetry: 'I have withdrawn from daily reality and sought refuge in the truth of literature. It is from the shore of that truth that I have attempted to write this book.' This literary bent has generated a profoundly unconventional piece of political commentary during which we flick through 'Mr Turkey's' photo album, analyze the symbolism of leggings, and come to understand how and why Twitter has risen to the status of a parallel Turkish news channel."
— Frieze
"The book is written in an intimate, conversational style. It is not a point-by-point account of Turkey's recent political history. Rather it is impressionistic—combining personal reflection, popular culture and smaller vignettes. This gives the writing a personal tone, impressing upon the reader the author's sadness, fury and desperation as she catalogs the injustices and atrocities she attributes to Turkey's leaders, past and present."
— Asian Review
"A wonderful book that gives a fascinating if frightening insight into the reasons why Turkey is becoming an authoritarian state. It gives an engrossing and intimate sense of the impact this development has on every aspect of life."
— Patrick Cockburn, journalist and author of The Rise of Islamic State
"Temelkuran is a patriot—no other word will do—who, with this book, has become one with those who have stood up throughout history to despotic and criminal leaders. "
— Seymour Hersh, author of The Killing of Osama Bin Laden
"Part guide, part confidante, Temelkuran brilliantly captures the neurosis at the heart of her country. An important book for anyone who wants to understand modern Turkey. "
— Padraig Reidy, editor, Little Atoms
"Temelkuran stares modern Turkey squarely in the eye to give a clear-sighted view of the crisis gripping the country. Temelkuran's writing delights in using the riches of language and the power of the image to create vivid insights into Turkey's turbulent past and present."
— Jodie Ginsberg, Index on Censorship