World Domination: The Sub Pop Records Story (RPM Series) (Paperback)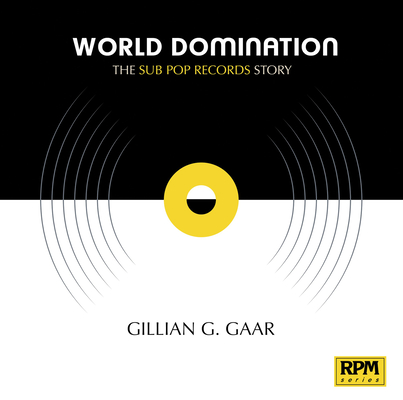 Description
---
Founded in the late 1980s by Bruce Pavitt and Jonathan Poneman, Seattle-based Sub Pop Records released early recordings by then-upstart regional bands such as Green River, Soundgarden, Mudhoney, Tad, Nirvana, Flaming Lips, Afghan Whigs, and Screaming Trees.
When the world went grunge crazy in the 1990s, Sub Pop was suddenly the epicenter of Seattle cool. Emerging organically from Bruce Pavitt's Subterranean Pop fanzine, the story of Sub Pop Records is the story of a couple of irreverent music lovers who stumbled into the record business because they simply loved working with bands they wanted to listen to themselves. From barely paying the bills to the trappings of major music industry success to the inevitable fallout, this is the inside story of the musicians, producers, staffers, and stars who built Sub Pop into an independent powerhouse.
World Domination takes you deep inside the chaotic early days of the label's founding, all the way to the present. It's a fascinating snapshot of a label that has promoted Death Cab for Cutie, the White Stripes, the Shins, Iron & Wine, the Postal Service, Sleater-Kinney, Band of Horses, Flight of the Conchords, Fleet Foxes, Sunny Day Real Estate, Shabazz Palaces, the Head and the Heart, Father John Misty, and many others. Author Gillian G. Gaar, a longtime Seattle-based writer, draws on firsthand interviews, deep research, and her years of covering the Seattle scene as a local music journalist to bring together the first in-depth historical narrative of one of America's more influential independent record labels.
About the Author
---
Gillian G. Gaar is the author of over fifteen books, including She's a Rebel: The History of Women in Rock & Roll, Return of the King: Elvis Presley's Great Comeback, and Entertain Us: The Rise of Nirvana. She was a senior editor at the Seattle music paper The Rocket and has also written for Mojo, Rolling Stone, Goldmine, and Seattle's Museum of Popular Culture, among many other publications and organizations. Gaar served as a project consultant on Nirvana's With the Lights Out box set. She lives in Seattle.