Ibram X. Kendi
Along with Town Hall, and our friends and colleagues at Third Place Books, we're honored to be having a hand in the welcome in-person return of National Book Award-winning scholar and author Ibram X. Kendi. He is here with a 'lead' new book, How to Raise an Antiracist (One World) but also with a new children's picture book in hand, Goodnight, Racism (illustrated by Cbabi Bayoc, Kokila).
"With the fierce devotion of a parent who demands a safer world for his child, our most trusted voice on antiracism reveals the critical role of parents, caregivers, and teachers in fostering either racist or antiracist attitudes in all children. Rendered intimate with stories from his own childhood and his parenting journey, this book is as compassionate as it is cogent and timely. Ibram X. Kendi once again lights the way."—Julie Lythcott-Haims.
Ibram X. Kendi's other publications for adult and younger readers include the National Book Award-winning Stamped from the Beginning: The Definitive History of Racist Ideas in America, How To Be an Antiracist, Antiracist Baby, Stamped: Racism, Antiracism, and You (co-authored with Jason Reynolds), Four Hundred Souls, and The Antiracist Deck. Dt.
Ibram X. Kendi is the Andrew W. Mellon Professor in the Humanities at Boston University and the founding director of the BU Center for Antiracist Research.
This live/in-person program, with livestreaming available, is presented by Town Hall Civics and Seattle's Child in partnership with Elliott Bay Book Company & Third Place Books.

$28.00

ISBN: 9780593242537
Availability: On Our Shelves Now
Published: One World - June 14th, 2022
---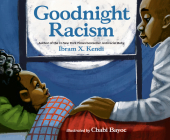 $18.99

ISBN: 9780593110515
Availability: On Our Shelves Now
Published: Kokila - June 14th, 2022
---
Location:
Live & in-person at Town Hall Seattle
1119 Eighth Avenue
Date:
Thursday, June 23, 2022 - 7:30pm
Custom Book Image: