Laurie Anderson
Laurie Anderson's new book All the Things I Lost in the Flood (Rizzoli) is a series of essays about stories and language. In celebration of the publication of the book the artist will present a limited number of performances. The performance All the Things I Lost in the Flood includes visual images- many of them previously unpublished- as well as intimate performances with commentary of some of her iconic work with voice, electronics, codes, narrative styles and digital language. The evening also includes accounts of many of the artist's projects, operas, installations and inventions as well as an inside look at the artist's methods, strategies, failures and Plan B's. A book about performance comes to life again as a performance.
Copies of All the Things I Lost in the Flood will be available at the show along with her recent Nonesuch record Landfall, a collaboration with the Kronos Quartet.
Presented by Seattle Theatre Group (STG). A booksigning following the performance is expected to be part of the evening. Tickets are $35 in advance or $40 on the day of the show. Click below to purchase tickets and for more information.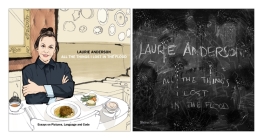 $75.00
ISBN: 9780847860555
Availability: On Our Shelves Now
Published: Rizzoli Electa - February 6th, 2018
---
Date:
Sunday, April 22, 2018 - 7:00pm
Location:
Neptune Theatre
1303 NE 45th Street
Custom Book Image: